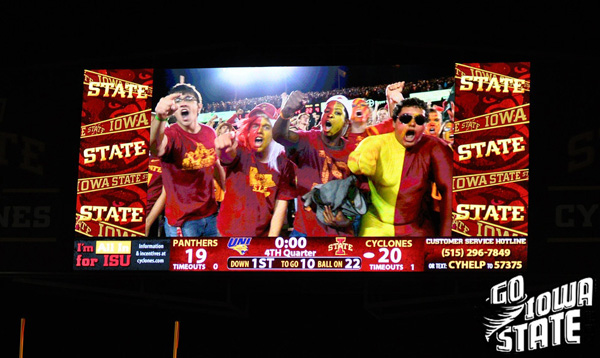 Final Score
Iowa State Cyclones 20 Northern Iowa Panthers 19
Game Balls
QB Steele Jantz – Struggled most of the game, but came through with two clutch drives when ISU needed it most.
CB Jacques Washington – Made the tackle on the opening kickoff and went on to have 11 tackles on the game.
P Kirby Van Der Kamp – Changed field position during the game, 51.2 yard average and three punts inside the 20.
DT Patrick Neal – With two DL out for the game, Neal slid over from DE and played DT for the entire game at 250 pounds.  True team player.
LB Jake Knott – Even though his arm was clearly still in pain, led team with 15 tackles and 2.5 tackles for loss.
DE Willie Scott – Willie took advantage of increased playing time with a great performance, 9 tackles and game clinching fumble recovery.
WR Josh Lenz – Made huge clutch catch in the back of the endzone to keep Iowa State alive, did a nice job returning punts and kicks.
Passing
Steele Jantz – 18-40, 187 yards, 1 TD, 3 INT
Rushing
Steele Jantz – 20 carries, 80 yards, 2 TD (1,1)
James White – 5 carries, 32 yards
Shontrelle Johnson – 9 carries, 27 yards
Receiving
Aaron Horne – 7 catches, 69 yards
Josh Lenz – 3 catches, 57 yards, 1 TD (26)
Defense
Jake Knott – 15 tackles, 2.5 TFL
Jacques Washington – 11 tackles
Willie Scott – 9 tackles, fumble recovery
Kicking
Zach Guyer – 2-2 PAT's
Punting
Kirby Van Der Kamp – 5 punts, 51.2 avg, 3 inside 20
Game Notes
Penalties – Northern Iowa 16-113, Iowa State 8-81
Turnovers – UNI 1, ISU 4
Possession – UNI 35:16, ISU 24:44
True Freshman Participation – Jared Brackens, Jevohn Miller
Suspended Players – Darius Darks, Hayworth Hicks, Cleyon Laing
Injured Players – Ricky Howard (out), Matt Tau'fo'ou (out), Anthony Young (out), Roosevelt Maggitt (removed), Kelechi Osemele (removed), Shontrelle Johnson (returned), Ter'ran Benton (returned)
Disqualified – CJ Morgan (3rd quarter)
Iowa State Cyclones vs Northern Iowa Panthers Photo Gallery
Get the flash player here: http://www.adobe.com/flashplayer
Check out this gallery – Iowa State vs Northern Iowa Photo Gallery (49 Photos)
See all of the game photos – Iowa State vs Northern Iowa Football Photos (394 Photos)
_______________________________________________________________________________________________________________________________________________________________