Final Score
Iowa State Cyclones 13 Kansas Jayhawks 10
Attendance
51,575
Game Balls
QB Jared Barnett- Played well in his first home start.  Ran for 125 yards and threw for 175 yards with a tough wind at Jack Trice Stadium.
WR Albert Gary – Filled in very admirably for Darius Reynolds.  Gary caught 5 balls for 57 yards.
WR/KR Jarvis West – Continues to get more involved with the offense.  Jarvis had 89 all-purpose yards including 54 on some fancy kickoff returns.
K Zach Guyer – Was perfect again going 2 for 2 on field goals and 1 for 1 on extra points.  Hit the game winner with 4:30 left on the clock.
RB Jeff Woody – Finished off the game with 4 runs for 45 yards on the final drive, had 61 yards overall on 9 carries.
WR Aaron Horne – Scored the only touchdown and had two catches for 31 yards.
LB A.J. Klein –  A.J. was all over the field: 9 tackles, a blocked field goal, a sack, a forced fumble, etc. etc.
DT Stephen Ruempolhamer – Had 4 tackles from his defensive tackle spot and his sack forced KU to punt on their last possession.
LB Jake Knott – Led the team with 10 tackles.  It looks like he is getting closer to being healthy.
S Durrell Givens/S Deon Broomfield/OL Jacob Gannon – Injuries forced all three into action and they all performed very well.
Passing
Jared Barnett 16-30, 175 yards, 1 interception

Rushing
Jared Barnett 22 carries, 125 yards
Jeff Woody 9 carries, 61 yards
James White 10 carries, 36 yards
Aaron Horne 1 carry, 18 yards, TD (18)
Kirby Van Der Kamp 1 carry, 17 yards
Receiving
Albert Gary 5 catches, 57 yards
Jarvis West 3 catches, 35 yards
Aaron Horne 2 catches, 31 yards
Defense
Jake Knott 10 tackles
A.J. Klein 9 tackles, 1 sack, 1.5 TFL, 1 QBH, 1 break up
Matt Tau'fo'ou 8 tackles, 1.5 TFL
Durrell Givens 6 tackles, 1 FF
Jeremy Reeves 6 tackles, 1 break up
Stephen Ruempolhamer 4 tackles, 1 sack, 1 TFL, 1 FF 
Kicking
Zach Guyer – 2-2 FG's (32, 42), 1-1 PAT's
Punting
Kirby Van Der Kamp – 2 punts (44.5 avg)
Iowa State Cyclones vs Kansas Jayhawks Photo Gallery (Photographer Steve Fry)
Click Here to See or Save 119 Photos from the Game
Get the flash player here: http://www.adobe.com/flashplayer
_______________________________________________________________________________________________________________________________________________________________

________________________________________________________________________________________________________________________________________________________________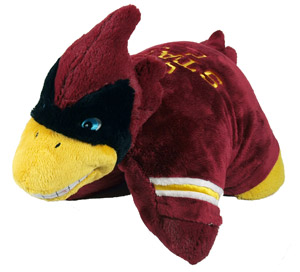 Iowa State Cyclones Cy Pillow Pets
Kansas Jayhawks Big Jay Pillow Pets
Kansas City Chiefs K.C. Wolf Pillow Pets
Kansas City Royals Sluggerrr Pillow Pets
College Pillow Pets / NFL Pillow Pets / MLB Pillow Pets
________________________________________________________________________________________________________________________________________________________________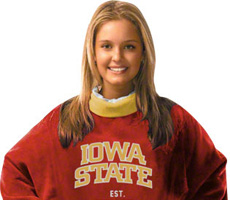 Iowa State Cyclones Snuggies
College Snuggies / NFL Snuggies / Designer Snuggies
________________________________________________________________________________________________________________________________________________________________