BIG 12 POSTSEASON AWARDS
Fred Hoiberg (Co-Coach of the Year) – Iowa State improved its conference win total by nine (12-6). It is the largest turnaround by any team in all-time Big 12 play. The Cyclones also finished the regular-season with 22 victories, the third-best total in Iowa State history.
Royce White (Newcomer of the Year / 1st Team All-Big 12 / All-Rookie Team) – White is the only player from a power-six conference to rank in the top-100 nationally in rebounding (44th-9.2) and assists (50th-5.2). Both his season rebounding (284) and assist (160) rank in Iowa State's single-season top-20
Scott Christopherson (3rd Team All-Big 12) – Christopherson is Iowa State's career leader in 3-point percentage (44.2 percent). Christopherson is currently the Big 12 leader in both 3-point percentage (45.5 percent) and free-throw percentage (89.5 percent).
Chris Allen (Honorable Mention All-Big 12) – Allen ranks sixth in Big 12 3-pointers per game at 2.3. Allen's 72 3-pointers ranks ninth on Iowa State's single-season record chart.
Melvin Ejim (Honorable Mention All-Big 12) – Ejim is averaging 9.4 points and 6.7 rebounds. Ejim improved his play dramatically in conference action, averaging 10.9 points and 7.1 rebounds. His conference rebounding average was the sixth-best total in the league.
Record/Stats Through Big 12 Regular Season
Iowa State Cyclones: Overall (22-9), Big 12 (12-6) 3rd Place
11/12 ISU 86 Lehigh 77 (Royce White 25)
11/15 Drake 74 ISU 65 (Royce White 21)
11/20 ISU 90 WCU 62 (Chris Babb 18)
11/22 ISU 90 N. Colorado 82 (Chris Allen 23)
11/25 ISU 64 Providence 54 (Chris Allen 15)
11/26 ISU 90 Rice 63 (Chris Babb 26)
11/30 UNI 69 ISU 62 (Allen & White 15)
12/3 Michigan 76 ISU 66 (Royce White 22)
12/6 ISU 84 Prairie View A&M 59 (Allen 16)
12/9 ISU 86 Iowa 76 (Royce White 17)
12/18 ISU 59 C. Michigan 52 (Royce White 14)
12/21 ISU 81 Lipscomb 64 (Christopherson 24)
12/31 ISU 67 Miss. Valley St. 65 (Ejim 15)
1/4 ISU 77 Texas 71 (Chris Babb 17)
1/7 ISU 74 Texas A&M 50 (Melvin Ejim 15)
1/11 Missouri 76 ISU 69 (Christopherson 19)
1/14 Kansas 82 ISU 73 (Royce White 18)
1/18 ISU 71 OSU 68 (White,McGee,Scott 17)
1/21 ISU 76 Texas Tech 52 (Tyrus McGee 20)
1/24 Texas 62 ISU 55 (Royce White 15)
1/28 ISU 72 Kansas 64 (Royce White 18)
1/31 ISU 72 Kansas St. 70 (Royce White 22)
2/4 ISU 77 Oklahoma 70 (Melvin Ejim 21)
2/7 OSU 69 ISU 67 (Chris Allen 22)
2/11 ISU 69 Texas A&M 46 (Chris Allen 25)
2/13 Baylor 79 ISU 64 (Ejim 17)
2/18 ISU 80 Oklahoma 69 (Scott 25)
2/22 ISU 72 Texas Tech 54 (Scott, Ejim 17)
2/25 ISU 65 K-State 61 (Scott 29)
2/29 Missouri 78 ISU 72 (Royce White 20)
3/3 ISU 80 Baylor 72 (Scott 23)
3/8 (6) Texas vs (3) ISU at 8:30 pm
Player Stats Through Big 12 Regular Season
Royce White – 12.9 points/game, 9.2 reb/game, 160 assists, 30 blocks, 36 steals
Scott Christopherson  – 12.6 points/game, 3.1 reb/game, 61-134 (.455) from 3 pt range, 71 assists, 18 steals
Chris Allen – 12.0 points/game, 2.3 reb/game, 72-186 (.387) from 3 pt range, 73 assists, 22 steals
Melvin Ejim – 9.4 points/game, 6.7 reb/game, 35 assists, 31 steals
Chris Babb – 8.3 pts/game, 4.1 reb/game, 63-186 (.339) from 3 pt range, 51 assists, 34 steals
Tyrus McGee – 8.2 pts/game, 3.4 reb/game,  49-120 (.408) from 3 point range, 21 assists, 14 steals
Team Stats Through Big 12 Regular Season
Points/Game: 73.5
Opponents Points/Game: 66.6
Field Goal Percentage: 45%
Three Point Percentage: 38.2%
Free Throw Percentage: 67.7%
Rebound Margin: +4.7
Assists/Game: 14.6
Turnover Margin: -.5
Iowa State vs Baylor Basketball Photo Gallery
Photos by Steve Fry
Get the flash player here: http://www.adobe.com/flashplayer
Flickr Gallery – Iowa State 80 Baylor 72 (download and save photos)
Iowa State vs Texas A&M Basketball Photo Gallery
Photos by Steve Fry
Get the flash player here: http://www.adobe.com/flashplayer
Flickr Gallery – Iowa State 69 Texas A&M 46 (download and save photos)
Iowa State vs Texas Tech Basketball Photo Gallery
Photos by Steve Fry
Get the flash player here: http://www.adobe.com/flashplayer
Flickr Gallery – Iowa State 72 Texas Tech 54 (download and save photos)
_______________________________________________________________________________________________________________________________________________________________

________________________________________________________________________________________________________________________________________________________________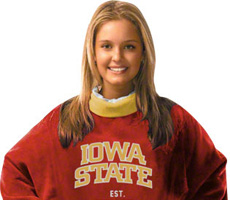 Iowa State Cyclones Snuggies / Texas A&M Snuggies / Texas Tech Red Raiders Snuggies / Baylor Snuggies
College Snuggies / NFL Snuggies / Designer Snuggies
Iowa State Cyclones Cy Pillow Pets / Texas A&M Aggies Pillow Pets / Texas Tech Red Raiders Pillow Pets
College Pillow Pets / NFL Pillow Pets / MLB Pillow Pets
________________________________________________________________________________________________________________________________________________________________