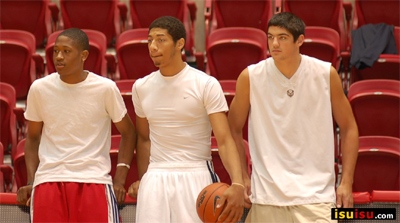 Photo Gallery: Iowa State Cyclones Basketball Visitors (September 15)
Photo Gallery: Iowa State Cyclones Basketball Scrimmage (September 15)
Iowa State hosted some of the top players in the nation last weekend, including Howard Pulley teammates Rodney Williams, Royce White and Mike Broghammer pictured above.
The recruits scrimmaged with current Cyclone players inside Hilton Coliseum.  The players that stood out to me were Rodney Williams, Harrison Barnes and Royce White.
Williams, who matched up against Wesley Johnson showed athletic ability, a soft touch and the ability to get to the basket.  Harrison Barnes is an incredibly talented high-school sophomore.  He was matched up on Lucca Staiger for much of the scrimmage and displayed good handles and knocked down the long ball.  Royce White is not flashy, but he is well-built, under control and rebounds and scores at will.
The Cyclones picked up a commitment from 2008 Utah center Justin Hamilton following the weekend.  Hamilton struggled in the scrimmage matching up most of the time against Cyclone freshman Craig Brackins.  I trust the coaches on this one, but Hamilton is a project.
September 15 Basketball Official Visitors:
Center – Justin Hamilton (6-11, 220)
Lone Peak (Alpine, Utah)
2008 Recruit: Committed to Iowa State
Offers: Iowa State, Pepperdine, St. Marys (CA), Cal-Poly, Weber State, UC Davis
Power Forward – Clinton Mann (6-7, 220)
St. Thomas Aquinas (Overland Park, Kansas)
2008 Recruit
Offers: Iowa State, Iowa, Creighton
September 15 Basketball Unofficial Visitors:
Shooting Guard – Rodney Williams (6-5, 180)
Robbinsdale Cooper (New Hope, Minnesota)
2009 Recruit: Ranked 43rd overall by Rivals, Ranked 8th best SG by Rivals
Offers: Iowa State, Iowa, Miami (FL), Minnesota
Small Forward – Royce White (6-7, 210)
De LaSalle (Minneapolis, Minnesota)
2009 Recruit: Ranked 32nd overall by Rivals, Ranked 11th best SF by Rivals
Offers: Iowa State, Arkansas, Illinois, Iowa, Miami (FL), Michigan State, Minnesota, Wisconsin, USC
Shooting Guard – Trent Lockett (6-5, 195)
Hopkins (Minnetonka, Minnesota)
2009 Recruit: Ranked 98th overall by Rivals, Ranked 23rd best SG by Rivals
Offers: Iowa State, Northern Iowa, Wisconsin-Green Bay, Colorado State
Small Forward – Harrison Barnes (6-4, 180)
Ames (Ames, Iowa)
2010 Recruit
Offers: Iowa State, Iowa, Indiana State
Power Forward – Mike Broghammer (6-8, 215)
Hopkins (Orono, Minnesota)
2009 Recruit
Offers: Iowa, Purdue, Wisconsin-Green Bay
Point Guard – Marc Sonnen (6-3, 180)
Tartan (Oakdale, Minnesota)
2009 Recruit
Offers: Northern Iowa, Wisconsin-Green Bay