Iowa State appears to have a good situation at receiver. Todd Blythe, RJ Sumrall and Milan Moses all have two plus years of experience. Blythe holds most of the Cyclone career receiving marks including 26 career touchdowns. However, no other returning Cyclone receiver has a touchdown reception in their career. If ISU is going to be successful in 2007 the receivers need to step up and make plays. I expect the Cyclones to go about six deep at receiver.
#1 Todd Blythe (6-5, 214) – Senior #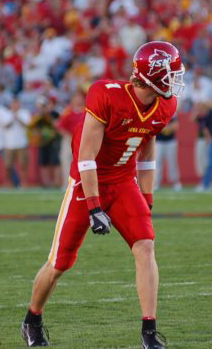 If Todd stays healthy in 2007 he should have a huge year. I have a feeling that Coach McFarland is going to put Todd in one-on-one situations with cornerbacks and I feel good about #1 winning those matchups. He should be hungry after having a so-so 2006 campaign catching 34 balls for 484 yards; missing 3 games with a virus. The offseason reports are that Todd has improved his route running, added strength and knocked a couple tenths off his 40 time. He has worked on becoming a complete wide receiver. If the offensive line can give Bret time to throw; I expect Blythe to break a few Cyclone single season school receiving records.
YEAR REC YDS TD
2006 Season 34 484 8
2005 Season 51 1000 9
2004 Season 39 833 9
2007 Prediction 64 1139 11
#5 RJ Sumrall (6-1, 203) – Junior #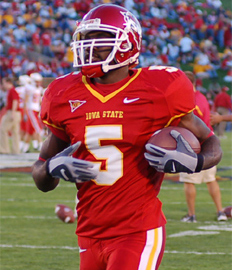 RJ Sumrall should see his numbers increase with the graduation of Austin Flynn and Jon Davis. Sumrall has been solid in his first two years averaging 23 catches and 311 yards. He makes the the tough catches and moves the chains. RJ is still looking for his first touchdown as a Cyclone, but I expect him to get in the end zone early in 2007.
YEAR REC YDS TD
2006 Season 25 310 0
2005 Season 20 311 0
2007 Prediction 37 420 3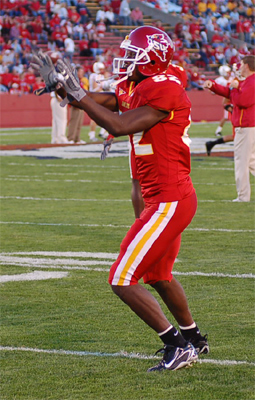 #82 Marquis Hamilton (6-3, 220) – Sophomore #
Big-Body is projected to be the number three wide receiver when the season opens next Thursday. Marquis has good size and should be a target in the red zone. He will rotate in and out with the other talented Cyclone receivers.
YEAR REC YDS TD
2006 Season 6 68 0
2007 Prediction 22 310 2
#32 Milan Moses (6-1, 203) – Senior #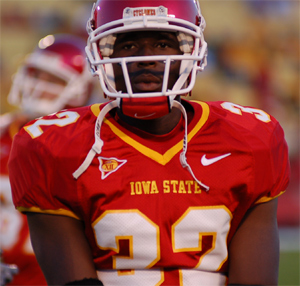 It is easy to root for Milan Moses. He loves the Cyclones, he always has a smile on his face and he battled a disease to get back on the playing field. Moses was diagnosed with Crohn's disease during the 2005 season. After missing the entire 2005 season and the beginning of the 2006 season, Milan put together a good second half of the 2006 season catching 24 balls for 282 yards. He seems to have conquered the disease and is back to his normal playing weight of 203 pounds. Moses is a gamer and I think he will make the most of his opportunities as a senior.
YEAR REC YDS TD
2006 Season 24 282 0
2005 Season 4 41 0
2004 Season 14 155 0
2007 Prediction 34 397 3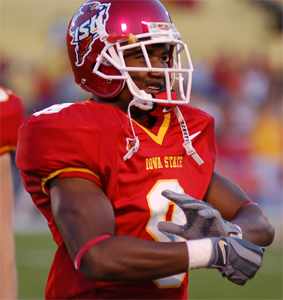 #9 Euseph Messiah (5-10, 171) – Junior #
Euseph is an undersized walk-on receiver that got his first opportunity to play in 2006. The new coaching staff loves the little guy and will find ways to get the playmaker the ball.
YEAR REC YDS TD
2006 Season 3 28 0
2007 Prediction 15 158 0
#18 Wallace Franklin (6-3, 169) – Junior
Franklin comes to Iowa State from Butler Community College where he averaged more than 20 yards/catch and had seven touchdowns. "Crazy Legs" adds an element of speed to this group of wide receivers and gives the Cyclones a home run threat. I am worried he will have a tough time getting off the line of scrimmage against Big 12 opponents, but I think he will have some big moments in 2007.
YEAR REC YDS TD
2007 Prediction 18 320 2
#14 Houston Jones (6-1, 194) – Sophomore #
Barring injury I don't expect Jones to get much action this year. He continues to make progress in his transition from QB to WR and he should make in impact as a junior and senior.
#17 Joel Zitek (6-2, 200) – Sophomore #
Zitek has had a good fall camp and may help the team in the future.
#24 Jake Williams (6-2, 202) – Freshman #
The former West Des Moines Valley wide receiver has also looked good in fall camp.
#2 Derron Montgomery (6-1, 176) – Freshman #
Montgomery is getting back to the team after another knee injury. He has top end speed, if he can stay healthy expect him to be a factor in the future.
#87 Alex Sandvig (6-0, 184) – Freshman
Sandvig looks like a natural wide receiver. He runs smooth routes and has good speed and hands. He could make in impact on special teams in the near future.